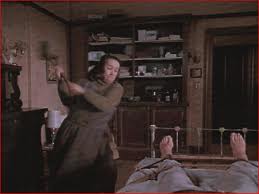 MISERY (1987): Misery is a psychological thriller by Stephen King. The novel was adapted into a film in 1990. Imagine the worst that can happen when a famous novelist is "rescued" from a car crash by an obsessed female fan.

Annie Wilkes: "Here's your pills."
Paul Sheldon: "Annie? Annie, what is it?"
Annie Wilkes: "The rain. Sometimes it gives me the blues. When you first came here, I only loved the writer part of Paul Sheldon. Now I know I love the rest of him too. I know you don't love me, don't say you do. You're beautiful, brilliant, a famous man of the world and I'm… not a movie star type. You'll never know the fear of losing someone like you if you're someone like me."
It's really hard thinking about the moral of this story if you are not a celebrity. I will just say, if you are a fan, please don't kidnap your idol. They are not toys to take home with you. If you are famous, be careful not to piss off your fans. Although it will be hard to please your fans, please try. Maybe, hire a bodyguard. I recommend SUPERMAN, the best bodyguard money can buy.
Pages: First | ← Previous | ... | 2 |3 | 4 | ... | Next → | Last