CLARA  
(Supernatural Stations Series )
A Novelette Three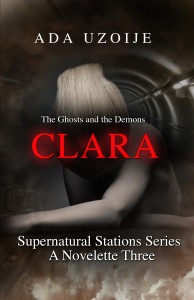 OUT ON APRIL 30, 2014
THE SINISTER
(Supernatural Stations Series)
A Novelette Two
OUT ON 29 NOVEMBER, 2013

BOOK DESCRIPTION:
  "It waits on the train. It takes you when the dark comes."
When the elderly Dorothy Parkes reported her husband missing whilst travelling together on one of the underground trains, and CCTV footage yielded no sign of Mr Parkes ever entering the train with his wife, everyone assumed that she was suffering from dementia.
If so, where then, is Mr Parkes? Did Dorothy in fact travel alone? Did the CCTV footage hit a glitch? Or was there something sinister behind her husband's disappearance? How could a 78 year old man simply walk out of a moving train within a second of a momentary blackout? Mrs Parkes knew something was amiss, but would the police and the train management realise this soon enough, before it's too late?
 Now, as more people keep vanishing, Rakha, the new Angel station Manager and Police Officer Liam are racing against time to unlock the truth.
THE GHOST  (Supernatural Stations Series)
A Novelette One
CLICK ON IMAGE TO ORDER